TownLift readers split on $30 million recreation bond
The level of opposition reflected here may come as a surprise to some, as it did to us
PARK CITY, Utah — We asked, and 421 of you so far have answered with your thoughts on Park City's proposed $30 million recreation bond.
TownLift began a survey on Oct. 23 that asked readers if they were for or against the bond. To date, 219 survey-takers say they're against it, and 202 say they support it.
The level of opposition reflected here may come as a surprise to some, as it did to us. Park City is a small, affluent enclave where voters could be thought of as better able to absorb the tax increase that would result from the bond's passage.
Only people within city limits can vote on the measure (unlike our survey).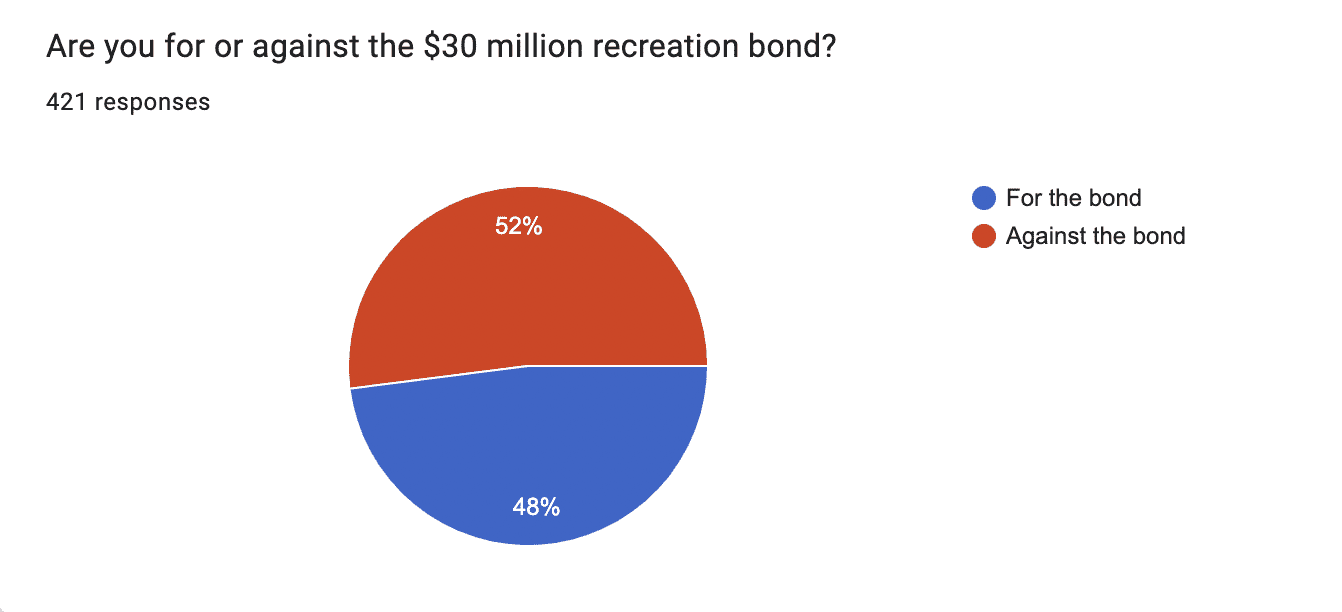 Ballots for Park City's general election were mailed to registered voters on Tuesday. Those voters will have the final say by election day on Nov. 21.
The debt service on the bonds will be paid by property tax. Over a period of 20 years, the average homeowner in Park City would see an estimated average property tax of $137.20 per year for a primary residence, and $249.46 per year for a business or non-primary residence to service the debt.
If the bond passes, the proceeds would be used for fitness expansion at the Park City Municipal Athletic and Recreation Center and new recreation amenities at the Park City Sports Complex at Quinn's Junction.
New amenities would include indoor and outdoor pickleball courts, a Nordic ski training area, a pump track for bicycles, a refrigerated outdoor ice sheet, sports field lighting and expansion of existing maintenance facilities.
Reader survey opinions also were mixed on whether those who live outside city limits should be able to reap the benefits of the bond.
"I'm for the bond, but not for the pickleball," one respondent said. "There is no reason for 84060 to build a pickleball complex that will be used by 80% or more of people (adults) outside 84060. The ice sheet will be used by students (and residents). So would most of the other possible spends. But it is ridiculous for us living in 84060 to pay to build a pickleball complex for essentially all non-84060 residents. Let them build it by the start of Brown's Canyon Road. Or, unlike the MARC, they need to charge 300% or 400% of the cost to use it to non-84060 residents. I get it that we are a destination; pickleball is not for tourists."
"Do we not build trails because people from SLC will use them?" Another respondent said. "There are plenty of 84060 residents that play pickleball. The Basin has made considerable investments in recreation that benefit 84060 residents. Fieldhouse, Trailside Park, WIllow Creek, Matt Knoop 400 miles of trails, Run-a-Muk……We need to get over this zip code thing. The basin is talking about a large rec bond next year. 84060 residents won't pay a dime towards it but will benefit if the bond passes."
"Until non-84060 users pay a much higher rate for our recreational facilities that have user fees (3-4x), residents of 84060 should not be responsible for providing the funds for development of new facilities," one respondent said. "The bond does not and CAN NOT cover ANY future operating costs or maintenance. The funds for ongoing expenses must come from other means within the PCMC budget, potentially taking funds away from other buckets deemed by residents and owners to be a higher priority."
Take the reader poll here. 
You May Also Like