Snowpack surpasses record for highest snow water equivalent since automated recording started in 1981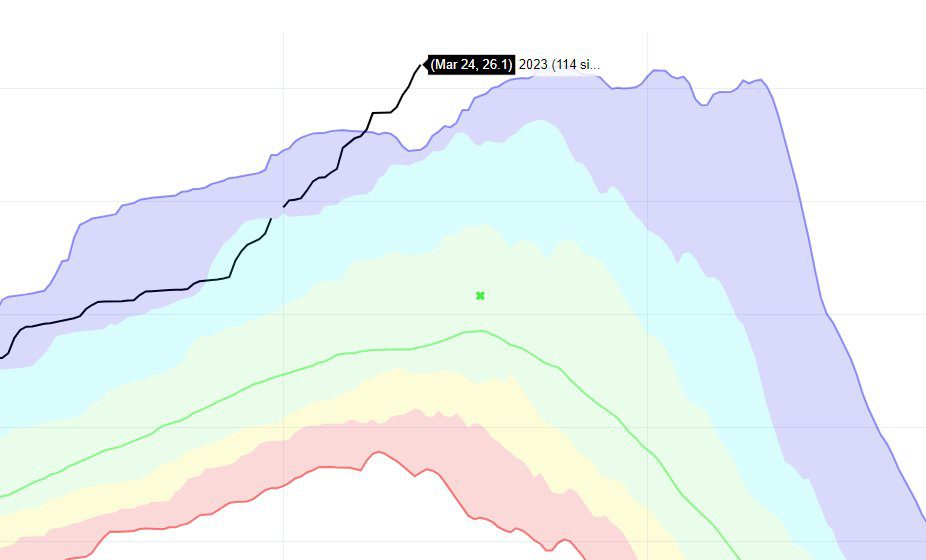 UTAH — The end of March is inching ever closer, yet heavy snowfall continues to find its way to the Wasatch. Snowpack levels have continued to rise to levels never seen before at this point in the season. Friday marked the day at which the current snow water equivalent (SWE), 26.1 inches, became the highest-ever recorded SWE in Utah since automated recording started in 1981 at 3:44 p.m. on Friday, breaking a 40-year record made in 1983. When considering years when manual records were being collected, the current snowpack is the highest since 1952.
The significance of this snowpack milestone is better understood when compared to snowpack levels of years past. The current snowpack SWE is over six inches higher than at any point of the winter season in the last ten years and over 12 inches higher than last year on March 24. The previous record SWE of 26 inches wasn't reached until April 13, 1983.
🤯New SWE numbers just came in, and we have now received the most snow water equivalent since automated records started in 1981. Manual records go back to 1920, and according to @NRCS_Utah this is the largest SWE since 1952 (with more snow to come). #utwx pic.twitter.com/Ss2B4Y4m96

— NWS Salt Lake City (@NWSSaltLakeCity) March 24, 2023
SWE is an average across the entire state, meaning that there are areas reaching much higher measurements. One way to take a closer look is by looking at the percentage of the median measurement over a period of time. In this format, measurements are taken from individual basins around the state in order to look at specific regions. Compared to the rest of the western U.S., some areas are higher in terms of the percentage above their median from 1991-2020.
Looking forward to when spring runoff is likely to hit full swing, forecasts from the USDA and the National Weather Service show rivers and streams rising significantly over the coming months. Still, no predictions show high probabilities of surpassing flood levels, at least in the vicinity of where the measurements come from. There still could be areas where flooding occurs, such as high-risk locations.
While forecasting that far into the future is tricky and only calculated using conditional simulations based on current conditions, it does provide context to the likelihood of a significant flooding event at nearby waterways.
It's crucial to remember that things could still change even if there was no more snow for the rest of the season. What made the flooding of 1983 so problematic was the drastic rise in temperatures and an all-at-once snowmelt that couldn't be contained. There were, of course, other reasons, such as the saturated soil from years of wet conditions, but it is not something being taken lightly by the cities, counties, or the state government.
In a council meeting on Thursday, staff presented efforts that are currently being conducted. There are 27 locations that are being checked two to four times a day and will be continued to do so throughout the spring runoff season. Sandbags will be available for the public to pick up beginning on April 3. Heavy equipment will be replaced at four key locations as the season progresses in order to remove floating debris that could obstruct flow quickly.
Communications plans are also in place to inform the public in case of emergency. Park City is actively participating in a multi-agency and private company effort that is focused on coordination and communication.
A meeting took place on March 7 in support of that effort. Aspects such as soil condition, anticipated spring warmup for the area, a review of the County Floodplain, and the identification of critical nodes in water infrastructure. Summit County, Oakley, and Park City also shared their mitigation and preparedness efforts in addition to potential response capabilities.
A look back at the flooding of 1983 as Utah gears up for heavy spring runoff
You May Also Like