Para Snowboarder from NAC wins at World's in Europe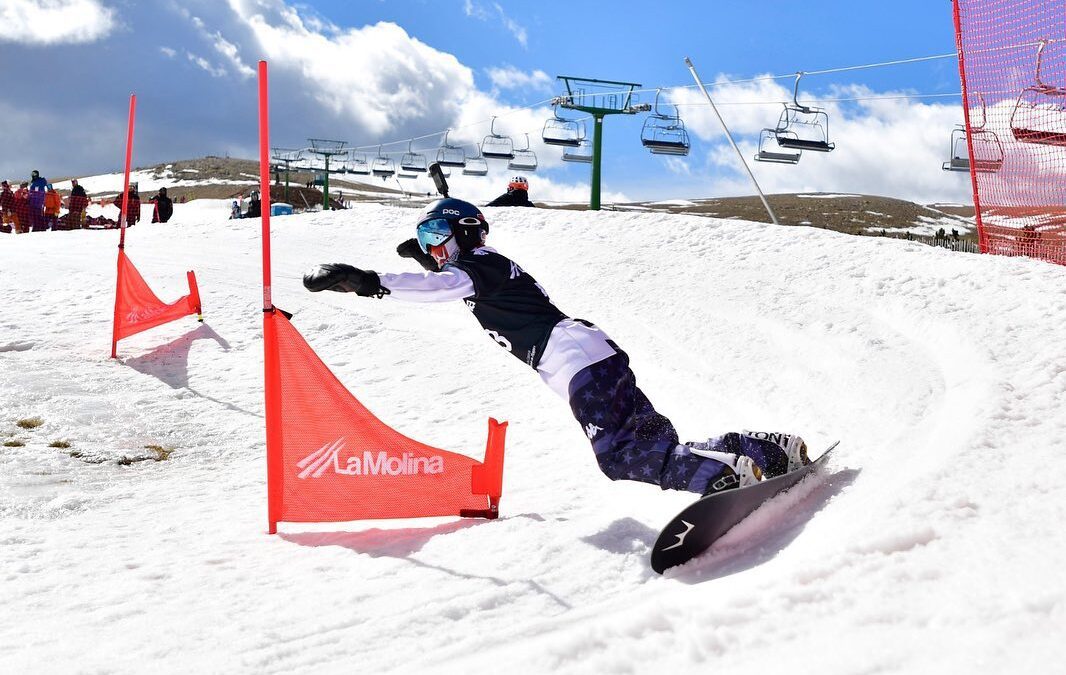 LA MOLINA, Spain – U.S. Para Snowboarding announced Paralympic champion Brenna Huckaby (Baton Rouge, Louisiana) continued her podium streaks at the 2023 FIS Para Snowboard World Championships defending her world titles in the dual banked slalom. Huckaby lives in Salt Lake City, trains at Snowbird with Team Utah, and got her start in the sport at Park City's National Ability Center (NAC).
Her USA Teammate, Noah Elliot (St. Charles, Missouri) also kept his world title at the competition.
Team USA picked up a total of six medals (two gold, four silver) cementing the Americans on top of the medals table with a total of 13 podium appearances across three days of competition.
Other Team USA athlete finishes include Keith Gabel (Ogden, Utah), also a former NAC athlete, and Evan Strong (Haiku, Hawaii) with a fifth and sixth place finish in the men's SB-LL2 respectively. Gabel is a three-time Paralympian and two-time Paralympic medalist.
Due to weather conditions, riders took to the course for combined qualification and finals runs in La Molina.

After taking silver in the snowboard cross earlier in the competition, there was no stopping Huckaby who was determined to grab back-to-back gold in the women's SB-LL1 class. Huckaby sailed through the qualification and semifinal runs with ease. In the finals, it was a fight to the finish as she edged out rival Cecile Hernandez from France to take the win in a photo finish. The gold marks Huckaby's fifth world title and third in the event.

"It took almost an hour to figure out the results and I won," said Huckaby in a statement. "I'm super pumped. I knew that I gave it my all and put everything out there so whatever happened was going to and I knew it was going to be fine either way."

It was another two U.S. athletes on the podium in the men's SB-LL1 as Elliott grabbed the top spot with teammate Mike Schultz (St. Cloud, Minnesota) taking the silver medal win. Elliott currently stands as the most decorated American of the competition with previous silver medal finishes in the snowboard cross and snowboard cross team events. Schultz recorded his second podium in La Molina after a bronze in the snowboard cross.

"I'm so astonished with my performances today," said Elliott. "Everyone was riding really well overall, but I was really excited to be able to ride the way I did today. To be defending and now own the second world title, I'm absolutely above the clouds."

"It was exciting and to be in the big final with my teammate Noah was pretty rad," said Schultz in a statement. "Overall, I was pretty pumped with my performance today and made no mistakes really. I couldn't get quite fast enough on the blue course which was commonly the slower one today… Being on the podium with Noah, myself, and Chris Vos – I build all of their equipment so it's a win-win."

Six years after his last world championship medal, Paralympic champion Mike Minor (Frisco, Colorado) made his way back with impressive runs across all four rounds. In the second photo finish of the day, Minor took home silver just .001 behind Switzerland's Aron Fahrni.

"That race was incredibly close – it was neck and neck all the way until the end," said Minor. "I was a little late in turn eight and it threw me off a little bit. It came down to a photo finish…just very, very close."

Picking up the first medal of the day was Peggy Martin (Golden, Colorado) who grabbed silver in the women's SB-UL in her world championship debut. Though Martin has been one the world cup circuit, she was astonished to be taking home her first medal.  

"I'm so excited right now, I can't even stand it," said Martin in a statement. "This was unexpected, I had no intentions of this award and how happy I am. The racing was incredible, and the other girls are really incredible, so I think I was lucky."

Paralympian Zach Miller (Silverthorne, Colorado) secured Team USA's sixth and final medal of the day with a silver in the men's SB-LL2 class. Miller took home the world title at the 2021 world championship and now holds four world championship medals including another silver in last week's snowboard cross competition.

"It was a crazy day," said Miller. "There was a lot that came at you today. I had runs on both courses but to come away with the silver, I'm still over the moon."

You May Also Like