Expect lane closures till mid-late September on US-40
WASATCH COUNTY, Utah – For the last month, travelers have been experiencing lane closures on highway U.S.-40, with closures in lanes both headed North to Park City and South to Heber City. The Utah Department of Transportation (UDOT) recently started a project repairing and replacing parts of the highway, and construction is set to continue throughout September.
According to Geoff Dupaix, UDOT's Region 3 Communications Manager, "We're either repairing or replacing the concrete panels on U.S.-40, just north of Heber and to the Summit County line. And in addition, where U.S.-40 crosses the Provo river, just below the Jordanelle dam, we're replacing the bridge decks at that location."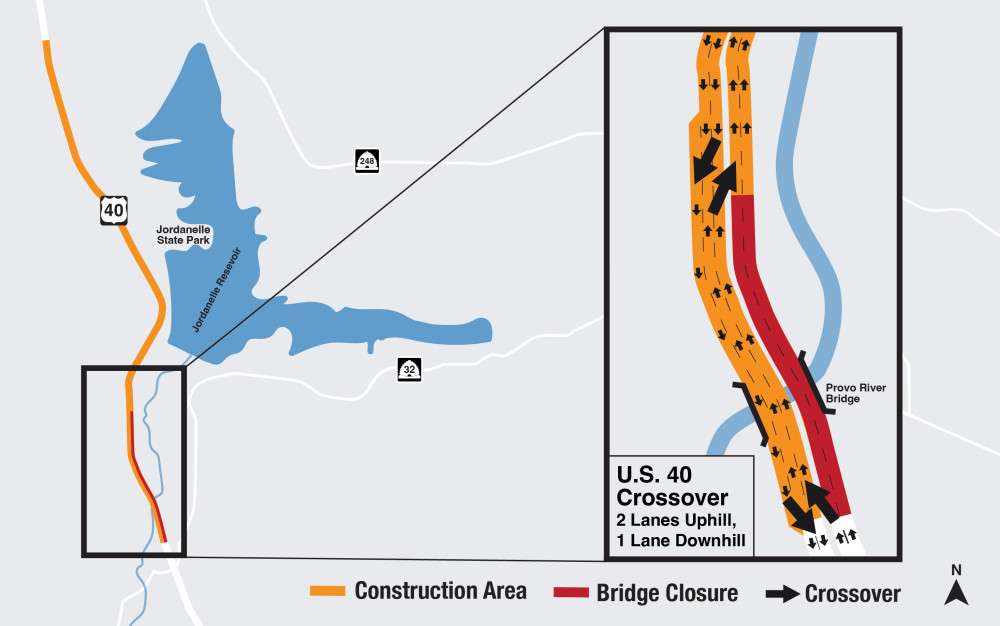 Lane closures are required for both parts of the improvement project. Currently, UDOT is working on replacing the bridge decks on the East side of the bridge and has diverted all traffic over to the west side. Traffic is forced to one lane for most of the drive up to the Jordanelle reservoir. As for panel repairs, UDOT crews are currently working on the 'hump' near milepost 10. Traffic is reduced to one lane in either direction and will be reduced for at least two more weeks.
UDOT's Communication Manager explained the need to replace panels, "Concrete is a more durable pavement, but this stretch has experienced wear and tear from a lot of trucks driving on it," Dupaix said, "…so this is part of a project to extend the life of the roadway. And to do that, we need to replace or repair parts of the concrete." Currently, panels along U.S-40 Southbound have been cut out, and UDOT is replacing the concrete and rebar.
Similar to other construction projects in the area, UDOT is having trouble finding a consistent concrete supply. "That's been something that has affected us all summer," Dupaix said of the concrete shortage. "We have had to ration the supply of concrete… it has delayed progress on replacing panels as well as the bridge deck."
"Our goal is to have all lanes open for wintertime. But we may need to come back due to some of these other supply issues that we were facing earlier in the year. We may have to come back to finish work next year. We're just trying to determine what that's going to look like." Dupaix said.
Although construction may be stopping in the next month, expect more lane closures in the Spring of 2023. Supply issues are delaying contractors, and projects throughout Heber City are being pushed back to the fall.
For more information, please refer to UDOT's website.

You May Also Like